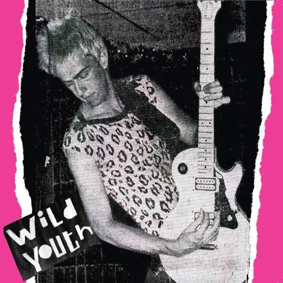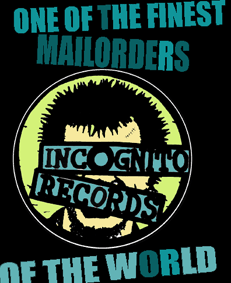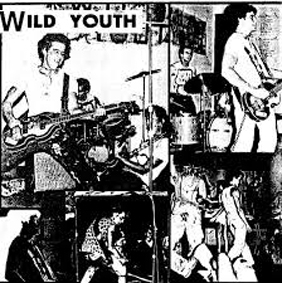 An exclusive interview with MICHAEL FLEK of South Africa's legendary punkband
WILD YOUTH and founder of the label RETROBUTION RECORDS
1.
Michael, you've been the guitar-player and song-writer of South Africa's very first punk-band.
How did that happen? Please tell us the whole story.

Wild Youth started in March 1978 but the story began a year before.
We grew up in the suburbs along the North Coast about ten miles away from Durban.
Wild Youth was born out of boredom, my friend Mark Dyson and I bored out of our skulls sitting
in his lounge listening to Rolling Stones records. Sometimes our friend Peter Kunst would join
us but he had a girlfriend so he had less free time. Boredom is good for rock and roll.
Mark and I decided to start a punk band with Peter. Peter would play bass and sing. I would play
guitar and sing and Mark would play the drums. We decided to call it The Fourth Reich, a stupid
name as we weren't fascist or racist just young dumb and wanted to cause a reaction. My dad had
grown up in Czechoslovakia under Nazi oppression and he has told me some horrific personal
recollections from those days but that is a story in itself.

Wild Youth grew up in the culturally spiritually devoid and morally corrupt wasteland of Apartheid
South Africa. Paranoia of "die swart gevaar" and communist threat was rampant. Even to mention
the name "Nelson Mandela" could lead to a hefty prison sentence as could the possession of a few
grains of zol. It was the time of "braaivleis rugby sunny skies and Chevrolet". But underneath
the smiling cheerful blonde green paradise all was not right.

The predicament of being a young white South African musician in the seventies was that by default
being white we were the enemy. We were not the people being oppressed by apartheid and for this
reason we were confused. We were musicians not revolutionaries. We didn't throw the petrol bomb or
blow up shopping centres. We were the people who along with family and friends frequented these
shopping centres. So we opted to try and coexist with all races in as peaceful manner as possible.

South Africa was a repressed country with a strong influence by the Dutch Reform church which meant
that culturally South Africa was vacant. We created our scene to relieve the monotony.

It was an offence for Nelson Mandela's name or picture to be shown in public and newspapers were
heavily censored, so it was no surprise that we knew very little. Even the history that we were
taught at school was altered to fit what the government wanted us to know. For anyone not into sport
or the outdoor life, Durban was dead. Television had only just been introduced in the mid Seventies,
cinema consisted of only the most popular blockbuster crap, overseas musicians and sportsmen
boycotted the country due to the politics and the local bands played mainly cover versions of top
twenty hits in night clubs. Very few groups composed their own material.

The main entertainment for teenagers was jorls (house parties) in the neighborhood at which there
were often rorts (fights). I got beat up once or twice for "checking ous out skeef" (looking at
them the wrong way). It wasn't surprising therefore that our early songs were about violence.
"Hate the World" "Maybe I'm wrong" "Anti You".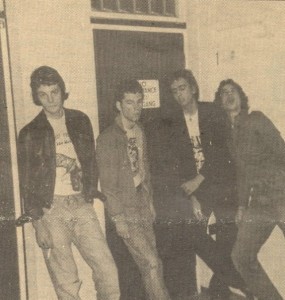 One day I was in Durban hanging around the Revolver Records shop in 320 Arcade, next to 320 West Street.
I was wearing a Sex Pistols Anarchy shirt which I had got copied from an ad in the NME. The sales
assistant Denis Shaw asked me if I had seen the Pistols. I hadn't but we started talking. He had
the Anarchy single and I had the Raw Power album. We decided to swap tapes. He then joined our
band on guitar and called himself Johnny Wednesday. Through him I heard The Velvet Underground.
We added the song "Heroin" to our set even though I didn't really understand the true meaning of
the song. Apart from drinking too much, we weren't into drugs.

Our first proper show was on 26th August at the University Of Natal Student Union at the bottom
of the bill supporting Richard Lucey's Rancid Dwarf. Both Denis and I were students at the University.
We played the show to 500 people. It was chaos. Our friends gave us whisky before we went on.
During "Heroin" I kicked over the mike stand. This sparked an onstage riot. Mark was so drunk he fell
backwards off the drum stool destroying the Rancid Dwarf banner in the process. The music was
primitive but we had made an impact.

We played a further two shows and then Denis left the group. Soon afterwards the band folded.
The stage however had been set.

In December 1977 Peter and I went to England. I was 20 years of age. We saw several bands including
the Clash. I also picked up some great records. We got back to South Africa the day that the Sex Pistols
split up. After England, South Africa felt like going back a hundred years in time. As Lou Reed says
"the only good thing about a small town is when you leave." I was keen to start another band. Mark
switched to vocals. Peter opted out as he didn't want to have his hair cut, having had short back
and sides all those years at school. He had a point but we wanted to present a united front and hippies
had long hair. In fact almost everybody had long hair, usually smoothly styled in a mullet often with a
Magnum moustache, even businessmen, doctors, accountants, and teachers. So we decided to have short hair.

I was approached by an old school friend Andrew Peinke asking to join the band. Andrew used to sit next
to me in class. He was probably the most popular guy in class, outgoing, confident, charming, and seemed
a good guy. I was the opposite, shy and depressive.

In March 1978 we formed Wild Youth. I began to teach Andrew bass on the Beatle bass that he had bought.
He was a good pupil and learnt quickly. He even built his own amplifier using skills he picked up
studying Engineering at University. I used to go around to his house in Durban North and teach him the
songs in his small bedroom amongst all the motor racing posters. I enjoyed teaching him. He had an animal
strength to his playing much in line with his nature. He was obviously talented as I tried to teach other
people bass later on in my life but seldom had the same results. These first songs were straight from
the heart.

I played a white Ibanez '59 er guitar with a Jim Dunlop Jimi Hendrix Big Muff distortion pedal through
a Yamaha transistor stack. I used to play 5th chords which are abbreviated forms of bar chords and have
a real powerful sound. When using a fuzz box the distortion creates all these overtones and harmonics
which give extra implied melody to the sound. When I hit a solo I would press a volume pedal which would
boost the volume immensely.

We called the new band "Wild Youth" after a song by Generation X, the British punk band fronted by
Billy Idol. We even wrote to Generation X, and where surprised when the bassist Tony James wrote back.
He explained how they made their pop art t-shirts. By this point Mark now called Pogo was manufacturing
his own t-shirts. This was a painstaking and laborious task and involved drawing the design and then
cutting it out on the silkscreen paper which was then put on a frame. You then had to carefully push the
dye across the print. The shirts came out real cool and were real individualistic. We also made our own
spray painted posters to advertise our gigs.

Andrew was like a human rhythm machine. I programmed him and he programmed the drummer. He also brought
a sense of professionalism to the whole outfit.

Rubin Rose. I can't remember who introduced us but soon he joined on drums. Rubin was a softly spoken
gentle guy with a black belt in karate. I think he did karate to keep his inner demons in check. We were
rehearsing at the Arts Centre, an office block converted into rehearsal rooms. Rubin used to do his karate
classes just around the corner. He came in to audition and loved our sound. He was a super powerful drummer
and had the right temperament.

After a short period of rehearsing we were ready to do our first show. We hired the Caxton Hall in
Beach Grove and charged 50 cents admission. This was around March 1978 and became a regular event.
Caxton Hall was a dilapidated hall well in need of a paint job and one of those places no one had ever
heard of. Early supports were provided by new wave band the Impact and Dave Wright's punk rock disco.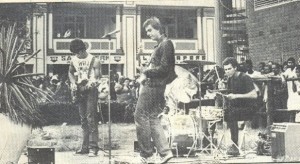 To advertise the gigs we made our own posters 24 inches by 16 inches in size. We would painstakingly cut
out a stencil of a basic design consisting of the Wild Youth logo and a crude picture of some punks and
spray paint the posters using car aerosol spray cans. We would then add further detail using marker pens.
We then would paste them all over town using glue made of flower and water, a real messy affair. The number
of posters increased each gig until we were pasting up around 400 posters per show. It was cool to walk
around town and see our name up everywhere often in bright fluorescent blue or orange colors. We soon
started getting noticed, by fans, the press and the police.

We played in front of a crudely spray painted backdrop on a white piece of sheeting. Our light consisted
of colored light bulbs shining on to the stage to create a seedy atmosphere.

The shows were wild. Mark was a superb sardonic front man in the vein of Rotten, Strummer or Stiv Bators,
with a confident tough personae and a wicked sense of humour. Beside him, Andrew and I leapt around like
lunatics whilst Rubin kept that demon beat going. That guy's beat was powerful. There was so much energy
on that stage those nights.

The music was basic, the Stooges and Pistols taken to an even more primitive level. We were crap musicians
but we made up for that with power self conviction and catchy songs. The sound quality was very raw. Rubin
had his own style and even made his own sticks, super thick to achieve an even more powerful sound.

We first played "Wot About Me" at Caxton Hall and it made an immediate impact. When I heard people singing
it after the show I knew that we were on to a good thing.

The audience was getting younger too and some of these kids went on to start their own bands. Peter's
sisters Marion and Sharon took the money at the door and formed Leopard with several great tracks including
"Those Boys Are Bitches". Paddy Vacant and Brett and Lance Ratrae later formed Powerage. The Gents and
Contaminators also evolved from the Caxton scene.

Afterwards the audience would all spill out onto the streets and hang out drinking and talking in the hot
humid night air under the brilliant white street lights amid the desolate concrete wasteland.
We played Sherwood Hall on June 7th with the Impact and Dave Wrights Punk Disco. On September 29th 1978
we played the same venue again with the Impact. The entrance fee was R1. Around this time we also played
the Westville Community Centre.

Mark was also started to develop as a song writer, bringing in "Sun City Rebels", a real powerful number,
with very much of an anthem quality.

It was around this time that Mark fell sick and couldn't do one of the shows. It was at the Girl Guide Hall
in Morningside. We went ahead and did it without him and I sang. I was so used to playing the songs that doing
the vocals was easy. I had written the words so I had no problem remembering them. We really cooked.
The performance was just burning with energy. I had so much frustration in me just burning to get out.

Soon afterwards Peter joined on second guitar. The band sounded great with two guitars. The two guitars
made us more dynamic and powerful. Here is an extract from an article in the Insight Magazine of
The Sunday Tribune written by Doug MacDonald reviewing probably the last of the Caxton Hall shows.
"They saunter on to the stage without much ceremony. They're clad in dog collars and slogan daubed
T-shirts. They pick up their instruments, and ZAM! they blast off."
"They play like they are possessed. Relentless drumming, pumping bass, guitar sandpapering your spinal
cord, defiant vocals ripping at your brain. My eardrums felt like they were being attacked by a crazy
nest of hornets."

At the end of 1978 Doug and a fellow journalist Martin Hendy approached us with a view to management.
Martin didn't last long as I don't think that he had the time to give us full commitment. He however
remained loyal to the group and still carried on writing about us and hanging out. Once we had management
things started happening very quickly. Doug was a rare breed of manager, being one hundred percent honest
and decent guy. He also had the unenviable job of being mediator and pacifier in the numerous arguments
that later raged as the band became more successful. The first thing he did was to start an intensive
media blitz. He also ensured that everything was photographed. In the course of our short life, the
Wild Youth was heavily documented by numerous professional photographers. Doug must have boxes of slides,
negatives and contact sheets somewhere. He also set about booking shows all over the country. One of
the biggest bits of advice that I can give a band is get a manager. It takes such a weight of
responsibility of your shoulders and allows you to concentrate on the music. Business and creativity
are opposites. Soon after Andrew pulled me to one side and gave me an ultimatum. Either Mark goes or
he does. It was a hard decision for me. On one hand Mark was one of my best friends and main
collaborator and on the other I had quite enjoyed the buzz of singing. The chance to sing the songs
that I had written was too great a temptation. I was also wary of losing Andrew as he was so organized.
So I chose Andrew. Mark was not the best singer technically, but had great passion and attitude.
He was also a good spokesman, a factor that weighed greatly in his later success in the legal profession.
We lost the band as gang mentality. It must be noted too that by now all the essential ingredients of the
Wild Youth sound were already in place and that whilst we might broaden our sound later on with the
introduction of other influences the foundation was virtually complete.

Peter decided to leave with Mark. We had underestimated his admiration of and loyalty to Mark. They formed
The Dead Babies. They had a great rhythm section James Bondage on bass and Clive Fly on drums with some
superb songs, influenced by Peter's love of Alice Cooper and Aerosmith and Marks humour and aggressively
cynical lyrics. These included "Juvenile", "Narrowminded" and "Nowhere To Pogo". The early Dead Babies
were great but it didn't last.

So Wild Youth started 1979 as a new stripped down unit. One of the first things I did was changing my name
to Johnny Teen. Andrew bought a second hand Fender Precision bass and spray painted it pink. It looked and
sounded fantastic.

I think it is time to point out that when we started Mark and I never ever thought that we would ever get
anywhere. It was just something that we wanted to do. I never ever had any ambitions to be a vocalist.
I only ever became the vocalist because I could sing in tune marginally better than the others. Of course
when I took on the job I enjoyed it. I also never wanted the band to be a three piece, believing that
vocals and guitar are better handled separately. So in effect the final line up of Wild Youth was a cop out,
a case of taking the easiest option. However we quickly we gained a name for ourselves. I was surprised
that such amateur musicians could make such an impact. I had never had any lessons and had learnt all my
tricks from working out songs from records and not very accurately at that. I had zero technique and knew
only one basic scale, the blues minor pentatonic. Andrew and Mark had never picked up an instrument prior
and Peter had about as much knowledge as me. Only Rubin was more experienced and was living testimony to
the theory that a good tight drummer is essential. Of course then we got a lot of press, mostly good,
some bad, but this also influences things. I sometimes think that for art to be pure it needs to be
created in a void with no other input from outside influences.

Andrew was concerned that we would be perceived as UK copyists and came up with a brilliant idea.
He likened our bringing the punk sound to SA, being like The Rolling Stones bringing the sound of
US Black R&B and Blues artists to the United Kingdom in the early Sixties. And the cool thing was that
it was true.

It was around this time that Andrew made his remark "we're into spontaneous violence – if you want us
to break stuff, we'll break it – that includes your nose". This was on the front page of the
Insight Magazine of The Sunday Tribune newspaper. For all our projected bravado we were not violent
people. This flippant remark, really pissed a lot of people off, scaring away some of the artier
contingent of our audience. Shortly after this article, I started work in my first full time job.
This gave inspiration to one of my more heartfelt songs "Friday Comes".

"Five days a week it's a private hell
Working for a living in a office cell
Boss comes in his pinstripe suit
Its only worth living when weekend comes
Friday comes I'll blow my mind

I don't wanna work 9 to 5
Don't wanna live my life a lie
Wanna get wrecked and have some fun
Its only worth living when weekend comes
Friday comes I'll blow my mind"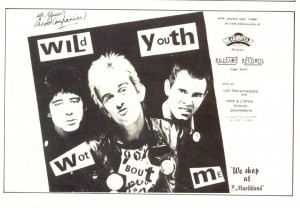 During Easter 1979 Wild Youth played a free open air show at Durban's amphitheatre just behind Durban's
beachfront near Durban's north beach. The show was organized by the new pop newspaper Music Maker,
South Africa's equivalent to NME or Melody Maker. Music Maker put a photo of us from this show on the
front cover of issue number 8 released on April 27th. They gave us a great review.

We were constantly changing the set and never played the same set twice. I did this to keep things
interesting. So songs were constantly added and taken out of the set. Some songs would only get played
once before being consigned to the scrap heap.

The same evening we played at Travolta's Disco at the Killarney Hotel in Durban supporting The Radio Rats.
The Radio Rats were a New Wave group from Springs and were the brain child of singer guitarist songwriter
Jonathan Handley. They had already released an album and an excellent single ZX Dan, sort of David Bowie
meets the Only Ones "Another Girl Another Planet". I think Jonathan was surprised by the ferocity of the
Durban audience reaction and the power, energy and the music of The Wild Youth. Both audience and band
had something to prove to these insurgents from the Transvaal. Opening with "So Messed Up" and followed by
"So Trendy", we were on fire. During "All Messed Up", I broke a string which J Rat changed for me.
Jonathan liked us and in future always championed our cause. He was a genuine person, a real music fan
and not some Johnny come lately jumping on the Punk New Wave bandwagon. Duncan Gibbon gave the gig a
killer review in Music Maker.

In early 1979 we went in C&G studios to record a 4 song demo. We had been playing the songs for a year
now and were real tight.

I remember the day as if it were yesterday. It was a beautiful sunny day without a cloud in the sky and
we travelled down to Westville in convoy. Andrew had his pink Fender Precision bass and his newly purchased
Yamaha stack. I had my White Ibanez "59'er" and Yamaha stack. When we arrived at the studio I saw a
black Ovation Breadwinner guitar lying around. It was a real strange looking guitar with a real weird
shape, a real period piece that was only around for a few years. I picked it up and had a go. It was a
cool guitar really well set up. I asked if I could use it for the recording. We started off with
"Record Companies", and it sounded very powerful. Second up was "So Messed Up". When I heard the vocals,
I was disappointed how wimpy I sounded, so I decided to go with the flow and re-record the vocals as
feminine as possible but without taking the piss. The next 2 songs were real driving punk overdriven blasts.
"So Trendy" is real minimalistic and very powerful, I love it to this day. "Make Up" had a killer riff marred
by some immature swearing in the lyrics. "So Trendy" ended with a cool Beatles styled sixth chord.

In the studio, we were quite a heads down no nonsense bunch and just got down to business, no drinking
or drugs and no hangers on. Afterwards we listened to the results on the car cassette player. I was
pleased with the result and told the C&G engineer so. He looked at me as if I was mad.

On 22 June 1979, Music Maker reviewed our Majestic Cinema gig in Chatsworth with Naked Truth and Fame.
Chatsworth is an Asian area about 20 kms south west of Durban. With about 300 000 residents, Chatsworth
has been described a "city within a city". We were bombarded with tomatoes and insults. "Hey pale face
get out of here. You need a spray paint before you come back". Well at least it wasn't wine bottles or
full beer cans being thrown at us. The red tomato stains only looked like blood. We did a blistering
set including covers of the Monkees "I'm Not Your Stepping Stone" and Elvis Presley's "All Shook Up".
We did make an impact and a lot of people dug it as well. It was very exciting and afterwards we had
to make a quick exit.

Sadly the Majestic Cinema is no more, closed 'long ago'. The building now houses a church upstairs,
and a club downstairs.

On June 29th 1979 a four page photo spread appeared in Scope magazine complete with an article written
by Martin Hendy. Scope had a wide readership mainly due to its pin-up's of scantily clad "bokkies" and
sensationalist articles. In those days of strict censorship, any photographs of female's nipples had
to be airbrushed or covered up with a drawn in box circle or star as exposure of any sexual organs was
strictly banned. We were photographed in the University Of Natal music room playing a short set surrounded
by scantily clad dancing girls. It was a lot of fun and exposed us to a lot of people.

The next day we were booked to play again at the Girl Guide Hall in North Ridge Road, Morningside. Sadly
Rubin was beaten up by a gang of youth's that had gate-crashed the venue during the Dead Babies set.
Bullets were fired and later the police found a spent cartridge. Rubin was taken to Addington Hospital
with concussion. Things were getting darker and we had several more similar bad experiences most notably
in Yellow Wood Park and Germiston. On 2 July 1979 the assault made page 2 of the Natal Mercury.

Soon afterwards Wild Youth and Dead Babies drove up to Pietermaritzburg in convoy to play an afternoon gig
at the Electric Ballroom Disco Laager centre. The entrance fee was R1.50 with no age restriction.
I remember it as being a disco in the middle of quite a barren looking shopping centre. Pietermaritzburg
is a sleepy dusty little town about 50 miles inland from Durban, very old fashioned and charming in its
own way. We played well and the audience liked us. It was at this gig that we met the Ashburton crowd who
became our good friends for the next few years. One of them was Genevieve Hadlow a talented photographer
who took some amazing black and white photos of the show. Gen continued to document the scene and we
became friends. The Pietermaritzburg crowd soon moved down to a commune in Montpelier Road in Morning
side where Genevieve lived. The house had a real bohemian vibe and became a place to party, talk, drink,
smoke and hang out with many people including the AK47's , the Gents and Issy Fataar brother of
ex Flame and Beach Boy Steve Fataar. Steve is a local legend and an integral part of the scene and later
opened his own club 567 at the top end of Durban near the college. Wild Youth played there several times.
I had first met Steve when I was a schoolboy. I had been the only outsider present when he recorded an as
yet unreleased solo album with Issy. During breaks in the session he had kindly taught me some
Led Zeppelin licks on his Les Paul.

On 15 July 1979, we played the Durban Jewish club with Steve Fataar and Further and Leopard.
On 25 July 1979, we flew to Johannesburg to play a string of dates at His Majesties Theatre
Johannesburg Music Festival with Renee Arnell Band, Radio Rats and Stingray. The Music Maker review
was great. "Particularily impressive was Johnny Teen's use of feedback – irregular, irreverent and
explosive as Pharoah Sanders screaming down his horn."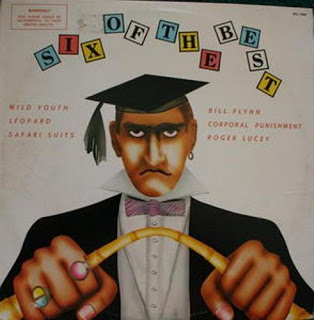 Our first trip to Johannesburg was fantastic. Suburban kids let loose in the big city lights for the
first time. On the first night we played a furiously wild high energy set at a local disco the Bella Napoli
complete with cocktail tables and flashing lights, real Saturday Night Fever-ville.
Soon after we were approached by Benjy Mudie of WEA Records to contribute 2 songs to a compilation that
WEA was putting out of local new wave music. The album was to be called "Six of The Best" and would also
feature songs by Bill Flynn, The Safari Suits, Roger Lucey, Corporal Punishment and Leopard. We decided
to re-record "Record Companies" and "So Messed Up, so again we went to C & G. This time however it was
decided to produce the songs a bit more.

On 11th August at 11am we did a promotional gig in Sanlam Arcade 331 West Street outside Nash Music formerly
Record King and signed autographs. The owner let us each have an album of our own choice as appreciation.
I chose the MC5 "Kick out The Jams". I had been going to Record King since I was thirteen years old and
the owner was always good to me. The show was very energetic.

On 31 August the Music Maker published a cover feature/ interview conducted by Duncan Gibbon at our tiny
rehearsal space in Point Road that Rubin had found for us. It was above a small old dusty pub with a real
old time feel and we used to pop into on occasion. Point Road was a real funky area and the bad part of town.
Being next to the entrance of the harbour it was notorious for brothels and seedy night clubs and bars that
the foreign sailors used to frequent. The buildings were old, full of character and the place had a good vibe.

The record came out in August and we got good reviews. To promote the record we did some more free gigs, but
then again most of our gigs where free as we rarely got paid. One of these was an open air show to a
multiracial audience in the open lot outside Nicol Square garage in Grey Street. This gig has been documented
in the film Punk in Africa. It was a great gig.

On 7 December, the Music Maker carried a review of a show at the Wagon Wheels club. The sound of the band
was developing and we played several new songs including "I Fell in Love with The Aliens" and "Space Invaders"
which were a nod to the electronic music which was becoming popular. On 13 December we started the
"Wot About Tour" at the Rainbow club, Wagonwheels Hotel, Florida Road. The next day we drove down the
South Coast to Margate play a gig at the South Natal Surf Rider Association at the Margate Town Hall.
The show commenced at 8pm and we were on after a surfing film called "Fantasy". Of course after the
film all the surfers left and we were left with an audience of two bikers who had ridden up from Durban.
We played the gig. Then we drove down to the Cape stopping off at Capitol Radio en route to do a radio
interview. The radio station was in an amazing location on the cliffs overlooking the sea surrounded by
trees far away from civilization.

On 15th and 16th we played Port St John. The next day we played East London Holiday Inn and on
18th December we did the Formosa Inn at Plettenberg Bay. It was such fun but our equipment was starting to
bear the strain of constant trashing. We had our own PA, a real tiny thing totally inadequate for the job.
We were accompanied by our manager Doug, photographer Martin Hendy and Gary Scott (friend, Johannesburg
gig promoter and tour roadie). I heard years later that Martin took his own life. It is tragic that so many
good people that we met through the band took this route.

The tour went real well and people really dug us. This was the best period of the band and certainly one of
the highlights of my life. It was the honeymoon period for the band and was very exciting, our coming of
age and voyage of self discovery, a real road trip with so many great gigs and memories! I remember sleeping
on the beach at Jeffrey's Bay. Also a blind drunk Andrew driving the van down precariously steep winding,
mountain passes. The charming old world towns of George and Knysna, the wild seas and shoreline of Jeffrey's
Bay at night. On 20 December we arrived in Capetown to join the Riot Rock tour with the Safari Suits,
Housewives Choice and National Wake. On arrival we were met at the petrol station by the Housewives Choice
and Genee Shock and Till, all totally dedicated people. We then headed to the Mowbray Town Hall to play.
I was impressed by how organized the Cape Town scene was compared to Durban with proper PA and venues.
We played well and the audience dug us. The Argus did an article on the tour which was published the same day.

National Wake were unique a multi racial group in a time when it was illegal to socialize across the colour
barriers. The singer guitarist Ivan Kadey was genuinely dedicated to breaking down racial divides. I remember
Punka and Gerard Khosa, drums and bass respectively, to be sweet natured, quite shy and goofy. It must
have been difficult being the only black people in a strictly white environment. Their album is superb,
such a diverse mix of styles, and the only album to successfully combine black African music and rock n roll.
Being a rocker at heart, my favourite song is "Black Punk Rockers, a unique blend of the MC5 and black
South African music, a very sexy song. Later in their career they were joined by Steve Moni of the
Safari Suits who were also on the tour. I wonder if the seeds of this union were sown at this point.

Housewives Choice where a great band who later evolved into the Rude Dementals. Older and more streetwise
than us, they had a tough sound. The guitarist Michael was stunning with a real acid Hendrix freeform style.
On 21st the tour played the Strand, 22nd Seapoint Civic Centre and 24th Fish Hoek Civic Centre. During
the same week we also played Club 1988 in Long Street. This might have been the gig that Rubin couldn't
do due to stomach problems and the Safari Suits drummer covered for him. Steve Moni, the guitarist of
The Safari Suits joined us for the encore of Iggy and the Stooges "Search and Destroy". Guillaume Gap
from the Housewives Choice lent us his PA for the gig. This was a real camaraderie with everyone helping
each other out. We then started the journey back and played East London once again on 28 December.

And so we commence 1980.
On February 18th 1980, we played the Wits Free Peoples Concert in Johannesburg with with Clarabelle
van Niekerk, Edi Nederlander, Juluka (Johnny Clegg & Sipho Mchunu), Flash Harry, Gate, Copperfield and
other bands. We went to Johannesburg several times, playing to rapidly expanding audiences, mainly at
the University but also at various halls, theatres and nightclubs. I remember the open air concert at the
University as the audience was particularly large and exuberant. I loved going to the new wave clubs,
Metal Beat, Blue Beat, DV8, the sleaze of these places. We met some real genuine people too, Neil Bolitho
who later was paralyzed in a motor cycle accident, Gilbert Calvert son of the famous jazz musician Eddie
Calvert and so on and so on. Sadly both Gilbert and Neil later committed suicide.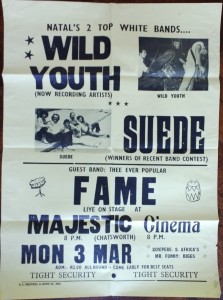 We really developed in Johannesburg playing these real large venues with good equipment lighting and big
stages with room to move. We often took the music right down the bass and drums, and I would hang from
the mike stand improvising. On 28th February Willy Reitz gave "Wot About Me" the thumbs down saying
"Hell is full of musical amateurs". The Music Maker also reviewed the Empangeni gig and mentioned
"Action Man" and a Andrew Peinke song called"Attack". On March 3rd we played the Majestic Cinema again,
this time with Suede and Fame. The response this time couldn't have been more different. The audience
really loved it. I remember meeting some beautiful Asian girls at the show.

On 2nd April we played UCT, University of Cape Town. We were not prepared for the intensity of the response.
We had no security or road crew and I think we blew a great opportunity. The gig was total mayhem, packed
to the rafters. I have never seen so much spitting, more so than I had seen even in England. It was near
impossible to play with fingers stuck to the fret board like glue, and the floor being so slippery.
It was a shambles. We were then flown down to the Hermanus Festival for the following day to play with
National Wake, Private File, Rude Dementals and many other bands at Little Freedom Farm on the 4th and 5th.
The Hermanus Festival was the biggest audience we ever played to, about 30 thousand from what I recall.
We were collected from the airport and driven down in a big car like real pop stars and were given our own
house to stay in. People who visited the house were surprised by how quiet we were. We played very late,
in the early hours of the morning, and we didn't play well. Punk was dying and ska was the new big thing.
Afterward people where selling bits of my guitar outside the venue.

On May 10th we played the GR Bozzoli Pavilion on Wits University campus. Support acts were The Party and
Dog and we had an audience of one thousand people. "New wave dress is preferable" said the organizers.
And so the gigs continued. We were developing new more diverse material with a more post punk edge.
"Avalanche", "Take Off", "Berlin", "Hiroshima". Another cool song was "City Girls" which used a cleaner
guitar sound and seventh chords. It was towards the end of this story that "Music Maker" ceased to be.
What made it even more tragic was that the Music Poll results had been about to be published we had
won the "Best Band" category. And then one day Andrew dropped a bombshell. It was at Doug's house.
He was leaving the group to concentrate on his job at the railways. He formed his own group soon after,
with himself on vocals. I was devastated. To have it go this far and have it all fall apart.
We still had one date booked at the Wits Great Hall, a Neil Bolitho benefit concert. It was terrible.
We had little enthusiasm as we knew that we were breaking up. I really didn't want to do the show and
got real drunk before to drown my sorrows. It was a lifeless, turgid affair with all the songs played
far too slow.

So that's that then. What an anti climax. Welcome to the harsh comedown of reality. In retrospect we
let ourselves down by not being strong enough as a unit and by letting ego's get in the way. Andrew was
probably right to break up the band as if we would have carried on we would probably become parodies
of our former selves or else got sucked into the mindless violence that is the public's perception
of punk. I got attacked several times towards the end, including an incident at a Dead Babies gig at
the Rex, a local bughouse cinema in Durban North. It was not fun. We were not great musicians but we
wrote catchy songs at a time when very few groups in South Africa wrote their own material. We also
believed in rock and roll and played it with a passion. We also saw the way things were going when
most people our age only listened to the Eagles or John Travolta. One only has to look at today to see
bands like Wild Youth everywhere. I realize now that despite the fact that I played with Andrew for
two years, I don't know what music he really liked. I think he liked Hendrix but we all loved Hendrix.
He admired the Stranglers because the bassist was macho, did karate and looked a bit like him.
He laughed that little laugh that he always did and was amused by the Vapors "Turning Japanese"
a song about masturbation. He also liked Echo and the Bunnymen and later on became a big fan of U2.
Apart from that I don't know.

Well what did we achieve! Well I wanted the band to be edgy glamorous arty rocky sexy and entertaining
and to take people out of the dull doldrums of their everyday lives and for a year or so we succeeded.
We drew our influences from everywhere and the palette was endless. To their credit the boys gave me
carte blanche to write what I wanted and for that I thank them. We had created our only little parallel
universe where dreams and plans and glamour and fun ruled. I think some people like Gen Hadlow,
Simon Davies, Jonathan Handley, Neil Bolitho, Gilbert Calvert and Ivan Kadey got it but too many people
just saw punk as Anarchy signs, Union Jack T-shirts, and an excuse for boorish behavior, drabness and
violence. I see the same dreams in the East End Art scene or the Fashion industry where people dress
cool all the time or in the TV series Desperate Romantics where young people hang out in bars living
out their artistic fantasies and plotting their next plans over a pint of lager or a bottle of wine.
There are groups of youngsters all over the world doing just that and it is part of the fun of being
in a band. However the fairytale was short lived and then it was back to the same old dull South Africa.
I guess that is why grunge was so successful in South Africa. The kids just don't want to have fun.

I am not going to lie to you and say that the Wild Youth had any sort of political agenda. The shows
we did in Chatsworth or Grey Street or with National Wake and Steve Fataar were highlights for me and
I really enjoyed the time I spent with the people of all races that I met and talked to. Music
breaks down all barriers. Wild Youth allowed us to experience life in a way that few other white
kids from the suburbs ever knew. It was fucking amazing.

2.
I'm sure your home-town Durban wasn't well prepared for punk rock back in 1978.
Can you tell us about the situation at the time? Was it dangerous to be a punk?
How did a punk-scene develop?

Durban was not prepared for punk rock in 1978 which is what made it is so interesting.
We were so different to everyone else that we were immediately noticed. But a lot of
the people of my age did not get it. They were the past and we were the future.
In the beginning it was not dangerous. As time progressed it got more dangerous.
A friend of mine once asked Johnny Lydon what it was like being him. His answer:
"It was like being famous without the good bits." That was what it was like for me at the end.

3.
WILD YOUTH released South Africa's first punk-single in 1979. How did you manage that
and how many copies did you press?

We recorded the songs in mid 1979 at C&G Studios in Westville. It was a good studio
and studio time was cheap in South Africa at the time. Everything was done in one day
and most of the time was spent on the backing tracks especially on Radio Youth which
had only been written a few days before. Both the lead solo and the vocal improvisation
at the end of the A-side were done on the spur of the moment first take with no rehearsal.
The production came out well with some great echo and chorus effects on the vocals.
Listening back I can really hear what a great rhythm section Andrew and Rubin were,
they got a great groove going especially on the A-side. Our manager Doug Macdonald
arranged the manufacture and label artwork. We had 300 copies pressed and the selling price
was R1.50. The single came in a plain white sleeve. The cover that is seen online is
fan made and the photo comes from a promo shoot that we did for the single. The single
became available in December 1979 and we promoted it on the "Wot 'bout me?" tour to Cape Town.
The leopard print shirt was bought from a punk clothing shop in Long Street Cape Town during
the tour so the photo shoot must have done soon after the tour. We used the picture in a few
record shop flyers and music paper ads promoting the single. The leopard print symbolised
the primitive caveman side of the band's music and performance perfectly. The single got
reviewed in February 1980.

4.
As far as I know you live in London these days. When and why did you leave Durban?
Do you still play in a band?

I left South Africa on April 23rd 1983. I always wanted to return to the city of my birth London.
I was obsessed with the music that came from there, the Rolling Stones, Who, Bowie, T Rex,
Roxy Music and then punk, the Sex Pistols and Clash. I wanted to experience London properly
for myself. I never regretted the decision. I would have floundered in Durban. It has not always
been easy but I have developed as a person. I no longer have a band but I have several
recording projects, the Gay Marines with Franco and SFMA with Fly Garrikk. The record label
is my priority. Wild Youth never recorded enough and without proper recordings an artist is forgotten.
I sold most of my equipment to fund the label. In Wild Youth we had a unique symmetry for the two
years that we were together. Each musician that I have played with since interprets the songs
in their way and it never sounds like Wild Youth. Some of it works some of it doesn't.
In Wild Youth we played by instinct and it was not calculated. Times have changed and musicians
have changed. It has become big business and branding. The primitive raw spirit has been lost.
Wild Youth were lucky. We were in year zero when there were no rules.
When the time is right I will form another band.

5.
WILD YOUTH is featured in a great documentary named PUNK IN AFRICA which came out in 2011.
Since it was shown on festivals only, not many people could watch it. Are you still in
contact with the makers KEITH JONES and DEON MAAS and do you know about plans to release it on DVD?

I speak to Keith Jones regularly. I have never met Deon. The DVD is due for release soon.

6.
You started a cool little label recently. It's named RETROBUTION RECORDS and you put out 7"s
by your own bands WILD YOUTH, GAY MARINES plus THE RETROS and SFMA so far. Do you have plans
for future releases?

Yes. I am currently working on the next three releases:

GAY MARINES - SUSPENDED ANIMATION/DARK LOVE
  2 of the best songs from GM 1981 now properly recorded.
  Cracking post punk, heavy guitars, the b-side is slow hard dark S&M punk.

SFMA - STEP INTO THE SUN/DEHUMANIZATION
  About South Africa in 2013

WILD YOUTH - WOT 'BOUT ME/SO TRENDY
  All housed in new amazing artwork.

7.
What does punk mean to you these days? Anything else you would like to say?

I have mixed views about whether punk has any relevance anymore. Punk was only meant to be a
"short sharp shock" and it has become probably the longest lasting alternative music lifestyle
of all time. Punk was meant to be rebellious music that anyone could play regardless of their
ability, now people go to music school to learn it. Punk was meant to be anti society and now
it is big business with emphasis on branding. Punk was meant to be no rules, now it has very
narrowly defined parameters. Punk used to be social commentary now punk ignores world issues
like the Middle East conflict, global terrorism and austerity.
The Sid Vicious story was the Altamont of punk and showed that negativity and violence will
not work and that if you pose too much of a threat society will close doors and get rid of you.
In 1976 the world was a different place and there was a big opportunity waiting to happen.
The world was a blank slate with no artistic guidelines.
Today everything is available and people have everything at their disposal.

Thanks a lot for your time, Michael.

It is a pleasure Barny. Thank you for your interest.