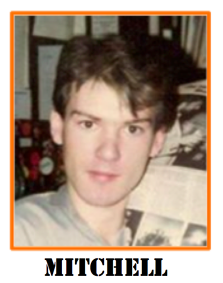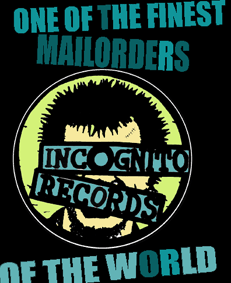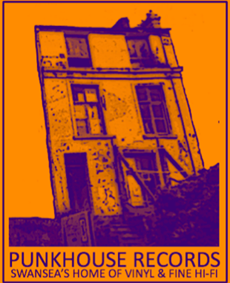 An exclusive interview with MITCHELL EDMOND
of PUNKHOUSE RECORDS
Not much is known about the punk-scene of Swansea – or in fact the Swansea music scene
of any description. Wikipedia doesn't help much by naming SPENCER DAVIS of the SPENCER DAVIS GROUP
as the best-known local musician. Otherwise, Swansea's only other real claims to musical fame
at the time of the late 70's were the now-legendary Beatles protégés BADFINGER, and MAN – the
archetypal hippie, faux-Height/Ashbury, long-hair jam band.

Swansea is in South-West Wales. It's provincial and a long way (in UK terms) from the big cities
of London, Birmingham, Manchester or Liverpool. It's not a place known for any particular cultural
heritage apart from being the birthplace of the great playwright Dylan Thomas – and even he
famously referred to it in print as an "ugly, lovely town" (the superb film TWIN TOWN from 1997
gives a representation of Swansea that is not far removed from reality... it also translates
Dylan's phrase as "pretty, shitty city").

Yet, despite being such a backwater, Swansea is the second biggest city in Wales, with a large
catchment area, and so would be included on most bands' UK tours. It was also one of only
20 towns and cities in the UK in the late 70's that had a Virgin Records store. This was
important, as Virgin stores stocked all of the new punk and independent releases of the time
and became local meeting-points for musicians and non-conformist teenagers.

Four guys that spent their teenage years hanging out in the Swansea Virgin store and being
involved with various local bands have recently set up the label PUNKHOUSE RECORDS with a
mission to help archive, restore and release original period music, images and reminiscences
from the Swansea Punk, Post-Punk and New Wave scene – specifically the 5 year period between
1978-1983. The records are limited editions and come in high quality packaging. They are clearly
a labour of love.

Mitchell from Punkhouse Records was kind enough to do an interview for the customers of
Incognito Records.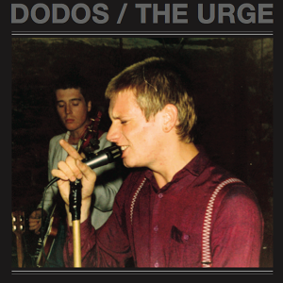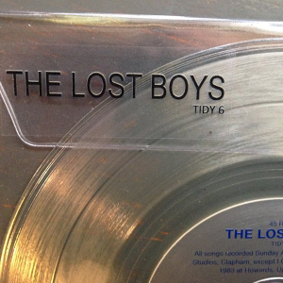 1.
You witnessed the early days in Swansea. How did you get involved in the punk scene?

Music has always been my main interest and I was an avid reader of the UK music press, and
watched whatever limited exposure for music there was on UK TV in the 70's, and listened to
the John Peel show on BBC Radio which was very influential in introducing new music that you
wouldn't hear anywhere else. So in 1976 I was aware from a distance that something new and
different was happening in the London music scene.

I had been a Bowie/Bolan/Roxy Music/Sensational Alex Harvey Band teenager, steeped in
The Beatles, The Stones, The Who, Jimi Hendrix, Cream and Chuck Berry through my uncle's record
collection, then Dr.Feelgood, Dave Edmunds, and Graham Parker & The Rumour….. before Patti Smith
'Horses' and experiencing the weird thrill of hearing The Ramones first album when it was
released in April '76. What was this exciting new sound? How (and why) did they play so fast?

I bought The Damned "New Rose" when it was released in October that year, and "Anarchy In The UK"
the following month (although I was unaware until some time later that The Sex Pistols had
actually played a (sparsely-attended) gig in Swansea in September 1976). Buzzcocks "Spiral Scratch" EP
early in 1977 was another seminal release, and the first 'punk' gig for me, and many other locals,
was The Clash and Subway Sect 'White Riot Tour' at Swansea University on 16 May 1977. The Stranglers
and The Dictators played Swansea Top Rank Suite later that year but the scene really exploded in 1978
with gigs every week at the Circles nightspot and The Top Rank, and local punk bands starting to come
together to create a scene centred around the Virgin store.

I was amazed and impressed to discover that some boys from the same school as me had formed a band and
were playing Clash, Wire and Ramones covers, and we organized one of the first local 'punk' gigs in
a church hall in a village in the countryside near Swansea. Through this exposure we got to know the
hipsters that worked in the Virgin store and started to hang out there regularly. Ultimately, I
joined the staff at Virgin in the summer of 1979 and so had access to listen to all the music I
could and meet everyone in Swansea who was interested in new music and local gigs.

In early 1981 I left Swansea to work in a new Virgin 'Megastore' in England but my Punkhouse partners
Stephen, Glenn and James were still deeply involved in everything that happened on the local music
scene and kept me in touch with tapes of anything that got recorded (a rare thing in those days)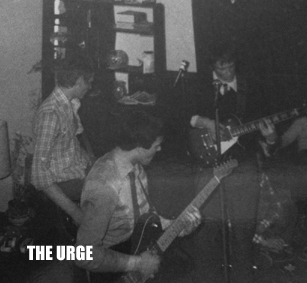 2.
Who and how developed the idea of PUNKHOUSE RECORDS?

Glenn set up a SWANSEA PUNK website back in late 2006, then a couple of years ago James set up a
SWANSEA PUNK and NEW WAVE Facebook group. The Facebook page brought together a lot of people that
had not been in contact with each other for 30 years and it has unearthed a fantastic treasure trove
of photos and stories from the Punk and New Wave era. Stephen knew that I am a bit of a hoarder and
that I had kept all of my cassettes and memorabilia and he suggested that we find a way of archiving
the tapes before the ravages of time destroy them forever.

We were obviously influenced to some extent by the national success of the local Swansea label FIERCE
in the late '80's/early 90's, and I should also give credit to the guys from MAD (Music, Art, Dance)
IN SWANSEA who are making it possible for today's local bands to have a place to rehearse and record
in Swansea. They have shown just how much can be achieved as a non-profit organization and are both
an inspiration and hopefully a partner for future Punkhouse plans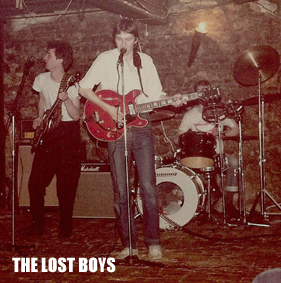 3.
You mentioned you're working on a book-project. What does that mean? How is the progress?

Our initial idea, and still the ultimate goal, is to create a box set of albums with an accompanying
large-format book containing photos and stories from our target period of 1978-83. This would encompass
all the bands, the venues, the key events, and some context of what it was like to be a teenager in the UK,
and Swansea in particular, at that time.

Releasing a series of 7" vinyl records in the meantime is a way of establishing the Punkhouse brand, to
garner wider interest, and to demonstrate the standard of quality that we aspire to in everything we
release. We want Punkhouse releases to be desirable artifacts even if many people that buy them don't
even have a record player anymore!

4.
What are the next plans with the label?

We have more releases lined up at regular intervals through 2014 to maintain a level of momentum
and interest while we work on the plans for the eventual box-set.

5.
The list of Swansea-based bands/material is not endless. What will you do when you are through?

You are right. Very little was committed to tape in those days and even then much of it has been
lost along the way. However, once we have archived and released what material did survive our work
will be done and maybe someone from the next generation will work on something similar for the post-'83 scene.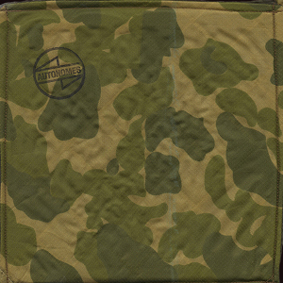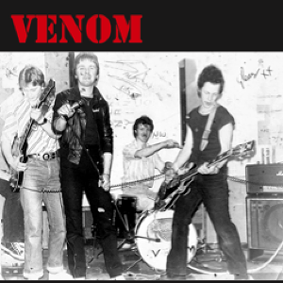 6.
Incognito Records released vinyl by two bands from Wales: ANHREFN and LLYGOD FFYRNIG. Both sung in
Welsh language. Did/does the Welsh culture and history have an influence on the Swansea punk-scene?

Although people from Swansea are fiercely proud of being Welsh, very few actually speak Welsh. If
anything was an influence it was more the sense of being far away from, and a year or two behind,
where things were happening on the London scene - with limited access to record companies, recording
studios and many of the major music business events. This may have created an insular but
self-sufficient creativity?

7.
What does punk mean to you these days? Anything else you would like to say?

For me personally 'punk' describes a short period of time in the late 70's which inspired a generation
of music enthusiasts by demonstrating that it was possible to 'do it yourself'. Before punk, being in
a band was about musicianship and hoping to get signed by a major record label that would pay to record
and promote your records. Punk made it seem possible for anyone to be in a band and for anyone to make
a record. That is even more the case today with all the technology available for home recording and
internet distribution and promotion. Our intent is to take advantage of the latest technology to
preserve what we can, but to make our releases in the spirit of the times i.e. vinyl records that
look like they would have if we'd had the money to make them back then.